Holes
Written by Louis Sachar
Reviewed by Robert S. (age 10)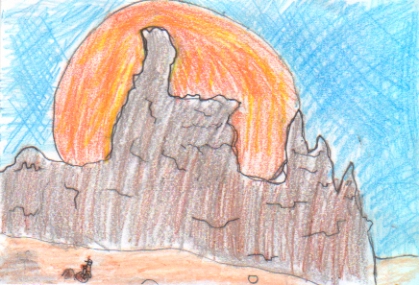 Stanley Yelnats is accused of stealing a pair of sneakers. When Stanley is walking home from school, he found a pair of shoes that came from the sky. He picked them up. He heard sirens and he began to run but they caught him. At court he had a choice to go to jail or Camp Green Lake.
Stanley chose Camp Green Lake not knowing what it was like. When he gets there, he finds out that it is completely the opposite of what he was thinking it was going to be. It was a dried up lake with only two green trees. At camp he has to dig holes. He meets new people there. Some are good and some are bad. He makes friends. To find out why the boys are digging holes and how Stanley gets out of Camp Green Lake,read the book.
My favorite part is when Stanley drives the water truck into the hole and the other boys have to help dig it out. They worked all day in the hot sun. My favorite character is Twitch. When he sees a car he likes, he begins to twitch. That's why they call him Twitch. When I close my eyes I can see him twitch.
This book is special because it is about a boy who is accused of something he didn't do and what he does about it. I admired him for never giving up even when the going was tough.
When Stanley gets accused, it reminds me of when something gets broken at home and I get blamed. It doesn't make me very happy.
I recommend this book to 4th-7th grade because it is a lot to read. I think someone who likes to read about great escapes, might like it. Lots of people would like the different characters.