Superfudge
Written by Judy Blume
Reviewed by Cooper B. (age 10)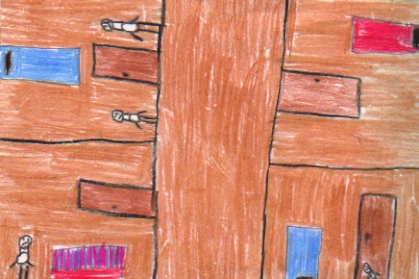 Super Fudge is about two brothers in the Hatcher family. They are getting a new baby sister. Peter does not want a little sister so he tries to run away. Fudge wants to go with him. Fudge tries to play with his sister when she is trying to take a nap. Fudge tries to take his sister's toes off. They find out that they're moving to Princeton, New Jersey for a year and Peter has to go to a new school. If you want to hear more about Fudge and the Hatcher's adventures read the book. It is really funny.
My favorite part is when Fudge is playing hide-and-go-seek with his sister. Fudge's mom thinks she was stolen because she does not know where his sister is and Fudge will not tell her.
I like Fudge because he does lots of silly things. He likes it when Peter gets in trouble. His mom thinks it's Peter's fault. The book is telling about what it's like having a brother and a sister. I have a brother and sister just like Peter.
Fudge reminds me of my brother because he does lots of silly things too, and crazy things like calling other people cartoon character's names. That would be something Fudge would do too.
There is a series of Fudge books. Judy Blume wrote a lot of stories about the Hatcher family. They are funny.
I recommend this book because it's funny and crazy. There are lots of parts you would like and a few parts that are scary. People who like lots of funny and crazy parts in a book will like it. I think it is a good book for the whole family.