Charlotte's Web
Written by E.B. White
Illustrated by Garth Williams
Reviewed by Bret K. (age 10)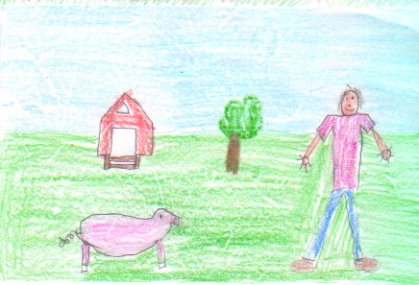 Charlotte's Web is a book about friendship. Wilbur is a pig that was born a runt. Fern takes care of Wilbur until he becomes too much for her to handle. He then goes to Mr. Zuckerman's farm. He lives among the animals there. He becomes lonely when Fern does not visit him as much as she used too. He makes friends with Charlotte, a spider. Wilbur finds out that he is going to be Christmas dinner. He is upset and Charlotte promises to save him. Read the book to find out how Charlotte saves Wilbur from becoming someone's dinner.
My favorite part is when Wilbur meets Charlotte and becomes friends. Charlotte is a good friend. She always puts her friends before herself.
I found Charlotte interesting because she tried to save Wilbur from being the Christmas dinner.
When I read this book it made me feel happy because Fern is helping Wilbur by feeding him. It made me think about how Wilbur felt being with Fern. When she was at school he was alone.
This reminds me of the time my dad had pigs on his farm. He had a runt like Wilbur and my brother had to take care of him. It made my brother feel really good like Fern did with Wilbur.
I recommend this book to anybody who lives on a farm or would like to, because it takes place on a farm. This is a really easy book to read. I recommend it to second grade and up.