A Rose for Pinkerton
Written by Steven Kellogg
Reviewed by Mikayla T. (age 7)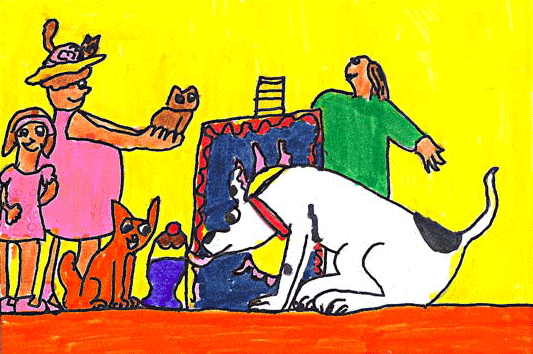 This story is about a dog named Pinkerton. He is very lonely. His owner asked her mom if she could get Pinkerton a friend and her mom said yes. Then they went to the pet show to find a friend. The owner found a kitten for Pinkerton and named her Rose. Then she took Rose home and Pinkerton liked Rose. First, Rose tried to be a Great Dane like Pinkerton. Then, Pinkerton tried to be a kitten like Rose. The owner went back to the pet show to find out why her pets were acting so strange. Read the story to find our what happens next!
I liked the book because it reminded me of my big, goofy do, Bear. Pinkerton acts just like my dog, Bear. My favorite part was when Pinkerton was afraid of Rose because it was funny. I also like Rose because she wanted to be a Great Dane, but she was a cat!
I highly recommend this book because it is funny, it has great pictures, and it has a lesson. I also recommend this book to people who like dogs and cats. Kids who are 7 to 9 years old should read this book because it is easy to read.