Vampires Don't Wear Polka Dots
Written by Debbie Dadey
Illustrated by John Steven Gurney
Reviewed by Melina A. (age 7)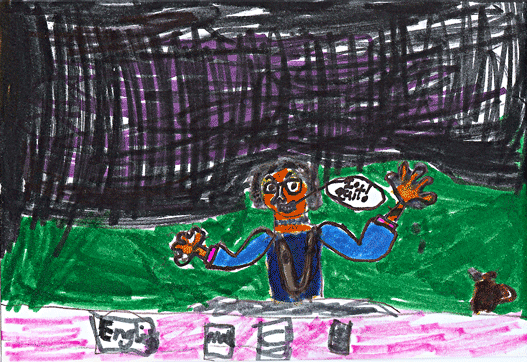 Have you ever had a teacher who was a vampire? The Bailey School Kids have! In Vampires Don't Wear Polka Dots, Liza and her friends, Howie, Melody, and Eddie are stuck without a teacher because Eddie was driving Mrs. Deedee nuts! Eddie is mean, rude, and he does not behave in school, because he hates school. The four friends get a new teacher named Mrs. Jeepers. They think she's a vampire! But, no, not Eddie, he doesn't believe it. Eddie tries to get Mrs. Jeepers to quit. One thing he does is he makes goldfish noises. He holds his math book HIGH in the air, and slams it on his desk. Mrs. Jeepers is mad! Read the book to find out what happens next.
Vampires Don't Wear Polka Dots is a smart and exciting book all people will enjoy. My favorite part is when Mrs. Deedee, the teacher, quits after she finds her desk full of shaving cream! I think that this part is hilarious! The character Liza is awesome, because she is interesting and intelligent. She inspires me a lot. I also think the new teacher, Mrs. Jeepers is marvelous! The kids think she is a vampire, because she got sick when they sprayed garlic all over the classroom! I love Mrs. Jeepers because she is smart, fascinating, and she inspires me just like Liza. When I finished reading this book, I felt that everyone has got to read it! When you read this book you will die with laughter.
I recommend this book to kids who like fun, exciting books. If you are a reader who enjoys interesting, funny, mysterious books, you have to read this one. Before you start reading take a good look at the title, because it tells you a lot. Also, don't forget to read the blurb! The book is available at most bookstores, and online. READ IT!