The BFG
Written by Roald Dahl
Illustrated by Quentin Blake
Reviewed by Shanice L. (age 9)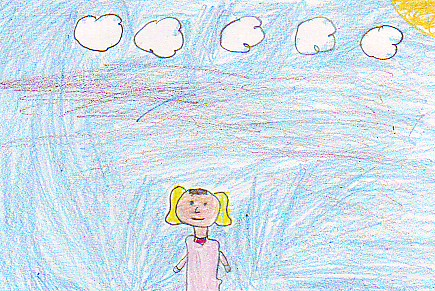 Do you like to read funny stories? If so, then you should read the BFG. It is about an orphan girl named Sophie. One night, she was swept off her feet by a giant. She was taken to an island of giants. The giant who took her was called the BFG. The BFG stands for big, friendly giant. The other giants are eating human beans. The BFG does not eat human beans and he is very kind. Sophie decides to go to England to the Queen about the mean giants. The BFG and Sophie come up with a plan to make the Queen dream about the mean giants. The Queen sends her army to the island of giants to bring them to England. She decides to put the mean giants in a hole and all they get to eat is snoozecumbers.
I thought this book was really funny because the BFG is making up silly words. My favorite part was when Sophie met the Queen of England. I liked this part because I like to think about life in England. I could picture Sophie and the Queen drinking tea. The BFG reminds me of myself when I was little. I used to make up words and people used to laugh at me. Sophie was scared at the beginning of the story and then she was really brave when she decided to help capture the mean giants. This book is unique because someone would have to have a big imagination to write about giants.
I would recommend this book to kids of all ages. Kids who have a taste for laughter will enjoy this book.