The BFG
Written by Roald Dahl
Illustrated by Quentin Blake
Reviewed by Robert T. (age 10)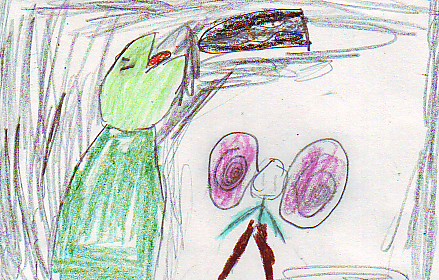 The BFG is about a girl named Sophie who gets captured in the middle of the night. The big friendly giant galloped to giant country with Sophie in his hand. Then the BFG arrives at giant country and heads home. After the BFG explained everything to Sophie, the realized that the other giants in this land were gulping down children for dinner every night. In the end Sophie and the BFG helped the soldiers capture the nine ugly giants and put them in a pit. They would have to eat disgusting snozzcumbers for the remainder of their days.
I thought this book was very funny. I really liked it. It was filled with mysterious, cool questions that had to be answered. The author did an excellent job of holding my attention. My favorite part was then the giants were fighting each other. They were blaming each other for everything. It was great. The character that I found most interesting was the BFG. He is so curious. He is also a good writer.
I highly recommend this book because it is interesting. It is suited for third grade and up. Read it if you like to laugh.