The Hot and Cold Summer
Written by Johanna Hurwitz
Illustrated by Gail Owens
Reviewed by Caitlin S. (age 9)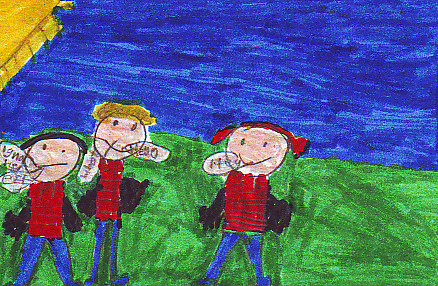 Have you read a Hot and Cold Summer? It is a great book! There are two main characters named Derek Curry and Rorry Dunn. They are just starting their summer vacation. They like to read comic stories. Then they find out they have to play with a girl who is visiting her aunt for the summer. These two best friends want to hide. Read this story to see what exciting events take place.
I really liked this book because it was funny and about real things that kids do. My favorite part was when they got into a snowball fight with ice cream. It was hilarious. They were throwing cold ice cream balls on a hot summer day. My favorite character was Rorry because I am a lot like him. Rorry is bossy and so am I. Rorry did lighten up in the story. He was mean to the girl, Boliva, at first then he started being nice to her. When I read this book I did not want to put it down. I just wanted to read more.
I think kids 8 through 10 should read this book. It is a funny book about life. Kids can learn from this book.