The BFG
Written by Roald Dahl
Illustrated by Quentin Blake
Reviewed by student in Mrs. Thomas' 4th Grade Class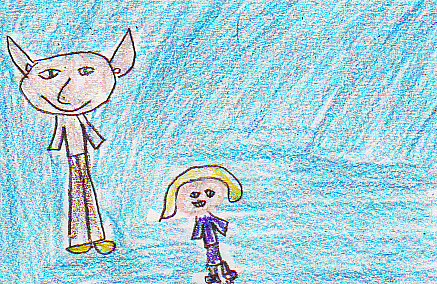 In the book The BFG, someone ripped Sophie out of her bed because saw the big friendly giant blowing dreams into children?s bedroom windows. He carries her to his cave. They also have a little chat and a snack of snozzcumbers and a drink of frobscottle. Sophie meets the giants. The giants are eating kids and grown ups. The BFG and Sophie try to stop this madness. Will they succeed, or not? You'll have to read to find out.
I like this book because it is very unique and funny. It is also a mystery with giants and children disappearing. The missing children reminds me of when my dog, Oreo, was taken away from me. It was horrible. When I read it I felt so much better because it made me laugh and it took my mind off of my dog. The character that reminded me of myself is the big friendly giant. He is clumsy and so am I.
I highly recommend this book to people who like funny books. It will crack you up. I think 3rd grade and up will like this book best of all.