The Zippity Zinger
Written by Henry Winkler
Illustrated by Lin Oliver
Reviewed by Michael H. (age 9)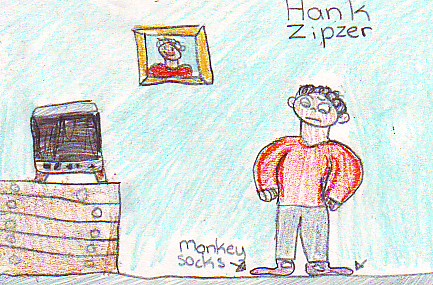 This is a book about another adventure for Hank, Ashley, Frankie, Emily, Katherine, and Nick the Tick. In this story, Emily loses her lucky, pink and red monkey socks. Hank randomly picks a pair of socks without looking. When he gets to school, he realizes that he has on Emily's pink and red monkey socks. When he gets home, he throws the baseball with Papa Pete. He can throw the ball really far and he thinks it is because he is wearing the lucky socks. This is only the beginning of another adventure for Hank and his friends. Read the book to see what other crazy things happen.
I really like the Hank Zipzer series because the stories are funny and about real kids. My favorite part in this story was when Hank threw the ball so fast that Nick's mouth opened wide. Hank finally put Nick the Tick in his place. I think all kids can relate to seeing a bully embarrassed. Hank is my favorite character because he reminds me of my old friend, Dustin. Hank and Dustin are always getting in trouble, but they don't mean to. Their brilliant plans always end up getting messed up.
I think kids around my age 9-12 will enjoy this book. The adventures that Hank and his friends have are just like real events in kid's lives today. I think kids that get in trouble at school can learn some lessons from the Hank Zipzer books.