Because of Winn-Dixie
Written by Kate DiCamillo
Reviewed by Hannah D. (age 9)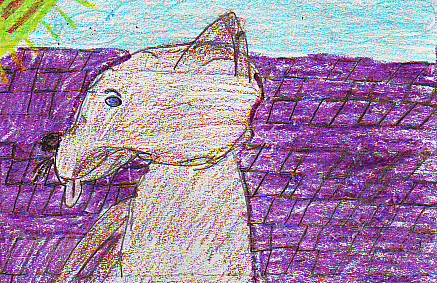 Because of Winn Dixie is a book about a little girl and a dog. They meet in a grocery store. I know it sounds strange, but they did. She didn't let the dog go to the pound, so she got him and named him Winn Dixie, after the grocery store. She took him home, gave him a bath, and put up flyers to see if he belonged to anyone, but no one responded in almost eight whole weeks. In the end Opal, the little girl, had a party and got the keep Winn Dixie. Through their many adventures together, Winn Dixie helped Opal make friends in her new town and helped her dad, the preacher, remember her momma.
My favorite part of the story is when Winn Dixie went into the witches house, an old blind woman named Gloria Dump, and ended up getting peanut butter all over his face. My connection is with my dog Samie. He's the same way with peanut butter but he's probably cuter and funnier. And there is something unique about his book and that is how Winn Dixie got her Opal's dad to tell her ten things about her mother. I think this showed how much they all really loved each other. I wonder how a dog could help Opal make friends like that. What a loving dog.
This book will shock you, inspire you. It will make you think and make you cry. I recommend it for second graders on up.