The Ice Dragon
Written by Martin George
Illustrated by Yvonne Gilbert
Reviewed by Kloe H. (age 10)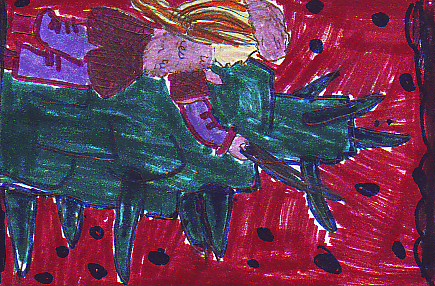 Have you seen a white dragon? I have. In the Ice Dragon, you will learn about Adara's love for the Ice dragon. Others want to kill him! There are dozens of people who have lost an arm or a leg or half a face from the hot breath of the Ice dragon. It is up to Adara to save the Ice dragon. Read this book to find out more.
I liked this book because it very interesting and it leaves you hanging. I have two favorite parts in the book. The first one was when Adara rides on the Ice Dragon's back because I can picture the whole thing in my head. The second part was when Adara steps on a nail and it goes through her foot. She just takes the nail out and walks away leaving a trail of blood. Adara is the most interesting character. She is not an ordinary girl. Her hands are cold and she is the only one besides her mom who can hold the ice lizards. Adara's mom reminds me of my mom. My mom is always looking after me like Adara's mom. This book is unique because it is a sad book. People hate the Ice dragon and Adara is trying to save them. She is the only true friend of the ice dragon.
I would recommend this book to 3rd-6th graders who like sad books. This book is hard to put down.