BFG
Written by Roald Dahl
Reviewed by Dominick R. (age 9)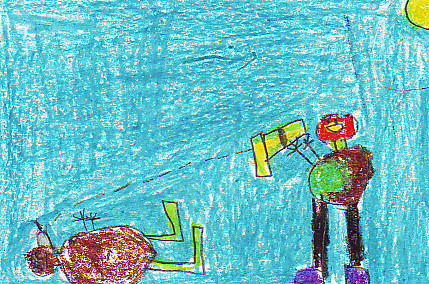 The BFG is about a girl, Sophie, who was taken from her bed by a giant called the BFG. When Sophie wakes up, she is in a cave with the BFG. The BFG tells Sophie about the other giants who are much bigger and meaner than the BFG. The BFG tells Sophie about how the giants eat people around the world at night. Sophie decides that they need to tell the Queen of England about the horrible giants. Sophie and the BFG make a plan to tell the Queen about the giants. The BFG and the Queen and the army decide to capture the giants. Read the story to find out what happens.
I thought this book was hilarious because the BFG doesn't know his english very well. My favorite part was when the army captured all the mean giants. When they got captured they were fed disgusting food. My favorite character was the BFG because he was funny and he cared about Sophie. Sophie reminds me of myself because she was scared of the giants. I would be scared of the mean giants too. When I read this book it made me wonder if giants are real.
I think kids in grades 4- 7 will enjoy this book. This book is funny and they make up funny words.