Where the Red Fern Grows
Written by Wilson Rawls
Reviewed by Ghazia K. (age 9)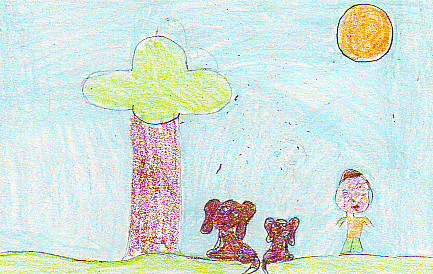 Did you ever feel like you wanted something so bad you would do anything for it? Even get in trouble. In this book, Billy finds how to get him a pair of hounds. He works hard and earns them. He was willing to take a risk. But some things in life don't last forever. Find out if that's true for Billy and his two hounds. Then find out why they call it- Where the Red Fern Grows. I am crazy about this book. I think it's a book where you go, -why do they call it where the red fern grows? They tell you at the end and boy it is a shocking detail.
I love the way the author holds the best part for last, if you know what I mean?. I think it is brilliant that he keeps me hanging. In the book it says "THEIR LOVE CAN'T BE BEAT".
I liked the book because it really was a heart-breaking book. My favorite part in the story was when Billy gets his hounds because he earned them. Little Ann reminded me of myself. We both are quite, shy and curious. Big Dan changed in the story. At the beginning, he would fight anyone and at the end he just gave up. This book is similar to Old Yeller because they both are about dogs and there is a surprise ending. The way Billy worked hard for his hounds is like how I worked hard to get my Heeleys.
I recommend this book to anyone who feels she/he lost someone. I think you should read this book because it gets down in your heart.