Just A Dream
Written by Chris Van Allsburg
Illustrated by Chris Van Allsburg
Reviewed by Veronica G. (age 9)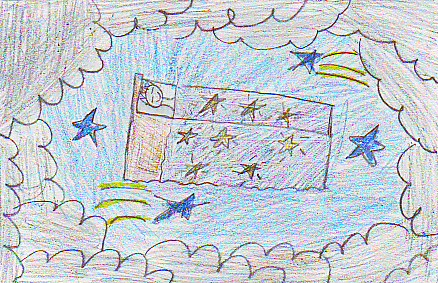 I think you should read this book because it's interesting. It's interesting because you ask yourself why is he there or what is he doing there? I like this book because of the voice, pictures, and it's mysterious.
The book is about a boy that dreams of going to the future and has different experiences in every place he goes. There is weird things and weird places the boy ends up going in his dreams. If the readers want to see the future then the readers are going to love this book. What made me want to open the book back up was the pictures and the mysteries of where Walter is at. I think the purpose of the book is to entertain people. This book is about a boy who wants to see the future and then he starts going to weird places. My favorite part is when Walter ends up on the clouds in the sky. the reason why I like that part is because, I knew if I ended up in the sky it would be fantastic. I think you should read this book because of the pictures and the characters. When you see the pictures you wonder what's happening. The book entertains me so it might entertain you.
I think this book is really unique. It's definitely not like the other books I've read. After you read one page you want to know what's next. The book is absolutely mysterious and curious because when you look at the pictures in the corner they give you a hint of where he's at. I have dreamt similiar dreams Walter was dreaming of. Sometimes I like them, some times I don't.