Edwurd Fudwupper Fibbed Big
Written by Berkeley Breathed
Illustrated by Berkeley Breathed
Reviewed by Leah M. (age 9)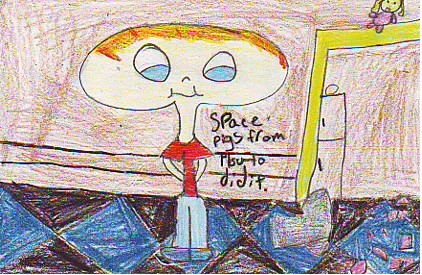 Edwurd Fudwupper Fibbed Big is about a boy who lies. This time he fibbed BIG! It all started when Mable-Dill went missing and Edwurd cracked his mom?s pot. He told his dad that space pigs from Plou-to did it while trying to kiss it. Outside the window a girls named Lorna-Mae was listening. She got scared and sent the Air Force and a dog- catcher out looking for Mable-Dill. This creates havoc in the community and this ugly thing came and he wanted Edwurd, but his sister stands up and says, ?no, it was me,? and the thing said we have two fibsters and Fannie says, ?I was taught by the best.?
I like this book because it is funny and the pictures are phenomenal. Fannie reminds me of me because I am a tattletale. I liked the part when Edwurd lies and all of his lies link together. The author must be funny to write this book.
Edwurd Fudwupper Fibbed Big is a funny book. I recommend this book to people who lie or even people who don?t. This book will teach kids who lie not to. I liked this book and I think you will too.