Who's That Knocking on Christmas Eve?
Written by Jan Brett
Reviewed by Katrina D. (age 10)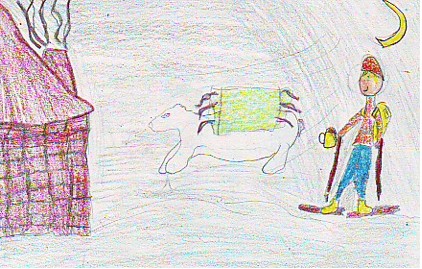 This book has an interesting story about a boy and his polar bear going to Oslo. They meet a girl who is in a little cottage by herself. They say that there are always trolls coming to the cottage on Christmas Eve. So they try to scare the trolls with the polar bear and make them never come back ever again. The ending is very funny, but you have to read it to hear it.
I think this book is funny and very Christmas like. It is one of my favorite books because I love Christmas books and it has one of my favorite animals in there (Polar bear). My favorite part was when a troll burned the polar bear?s nose with a sausage and the polar bear went crazy. The character that I had a lot in common with was the little girl. She was a lot like me because whenever I hear a weird noise, I get scared and that happened to the girl when someone knocked on the door when she was home by herself. A lot of little kids and elementary kids will like this funny book.
I recommend this book to kids who like colorful illustrations and kids who like funny books. I hope you read this book because it will make you want to read more after the first page. I think the pictures, the characters, and the details they put in the story might get you up and reading this book.