Josefina Saves the Day
Written by Valerie Tripp
Illustrated by Jean-Paul Tibbles
Reviewed by Claire S. (age 7)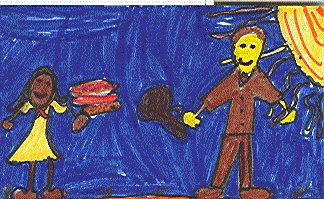 This is a story of a girl named Josefina who meets an American whose name is Patrick O'Toole. One day Tia Dolores, their aunt, said that Josefina and her sisters could trade their blankets for something downtown. Josefina spotted a little farm she wanted to trade her blankets for, one of Josefina's sisters wanted knitting needles, and the other wanted a mirror. But Josefina also wanted to get Patrick's violin for her dad because one night Patrick had handed his violin to Josefina's dad and the dad had played it all night. So, on another day Josefina and her sisters traded their blankets for Patrick's violin for their dad. They had a hard time getting everything, but it finally worked out.
I liked this story because the setting was in Mexico because Mexico is an interesting place to me. I also liked the characters because sometimes they would speak Spanish in the story, and I got to read Spanish words I liked the solution because they all got what they wanted.
I would recommend this book for my friend Hannah because she likes fairy tales. I think that second graders would like this book because it would be easy to read. I think the part when all three girls traded their blankets for Patrick's violin is the part people would like most.