Polar Bears Past Bedtime
Written by Mary Pope Osborn
Illustrated by Sal Murdocca
Reviewed by Jordan B. (age 7)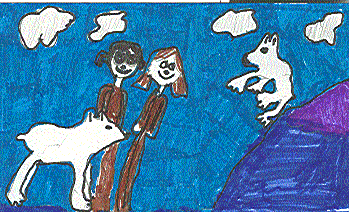 First Jack woke up hearing an owl make whooing sounds. Then Jack got Annie to see what the owl was saying. Annie was asleep so Jack shook her to wake her up. Then they went to the tree house and the magic tree house took them to the Arctic. They had an exciting adventure.
I like this book, Polar Bears Past Bedtime, because the illustrations of the polar bears look real and the game of tag with the polar bears were very funny. Annie reminds me of my sister Abby. Annie kind of looks like Abby, and she acts like her, too. The polar bears remind me of Abby, too, because Abby acts kind of hyper like the polar bears playing tag when she's "it" in the game of tag. I think my sister Abby who is four years old.
I think my sister, who is four years old, would like me to read this book to her because the book is exciting, and Abby likes exciting books. I think the part that she would like the most is the part when Jack and Annie played tag with the polar bears. To me, that's the most fun part of the book. I think Abby would think so, too.