Dragon of the Red Dawn
Written by Mary Pope Osborne
Illustrated by Sal Murdocca
Reviewed by Tate F. (age 7)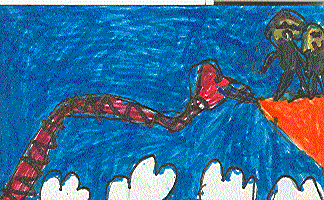 The book was about Basho, Jack, and Annie. They have a magic wand that does what they want it to do as long as they use five commands that the wand understands. One day a fire breaks out in their town. Jack and Annie use the wand to find a dragon that makes it rain on the fire. The rain puts the fire out.
I kind of liked the story because Jack was like me. He was very serious and cautious; he didn't want to just go do stuff. Annie was like my sister because she always wants to do stuff. I liked the setting because China is one of my favorite places. I like the plot because it was an adventure, and I like to read adventures.
I think second graders would like to read this book. I think they would like the adventure. I think Holden would like to read this book. I think Holden would like the magic tree house series and this book especially because he likes stories with adventure and magic. I think he would like the part of the book where Jack and Annie find the dragon.