Nancy Drew Notebooks: The Puppy Problem
Written by Carolyn Keene
Illustrated by Anthony Accardo
Reviewed by Maeve R. (age 7)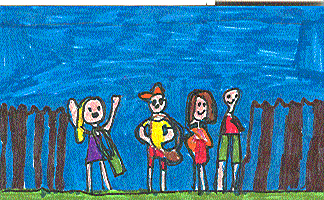 Nancy Drew has a new puppy! But Hanna the housekeeper thinks that Nancy's puppy ate three of the six muffins she had made. Guess what - Kenny, a neighborhood boy one year older than Nancy, stole them. He stole the muffins because he has a new dog, too, and he ran out of food for his dog. Nancy's dog led her to the place where Kenny was keeping the muffins and more food he had stolen. Nancy wrote a note that said she had the best dog in the world!
I like the book because I like to solve mysteries, too. The book was so, so interesting because the whole time I was reading, I was wondering who the suspect was. My favorite part was when Nancy got locked in the closet by one of the suspects named Sam. That part was so cool!
I think second- through fourth-graders would like to read this book if they like mysteries because this book has a mystery in it. I think that they will like the part when Lara and Nancy get locked in the closet by Sam, one of the suspects. They were spying on Sam. That part is like a different part of the book. It's a really special part.