Nancy Drew Notebooks: Flower Power
Written by Carolyn Keene
Illustrated by Jan Naimo Jones
Reviewed by Katie S. (age 7)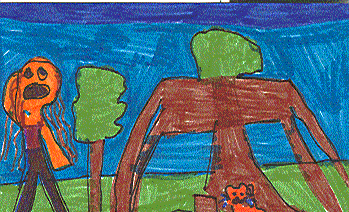 In this book Nancy, Bess, George, and Julia are entering a flower contest. The flower they enter is Pink Princess Daisies. Nancy and her friends are sure they are going to win, but Viola Van Hall is sure she'll win. Their classmate, Orson Wong, does a science experiment on the flowers. The daisies disappear, and no one knows where they are. They find them the day before the flower contest.
This is a very good story because Nancy, George, Bess and Julia are trying to solve a mystery. I like to read mysteries! It's good because they have no idea where the flowers they are looking for are. It was exciting to see how they solved the mystery. I think the illustrations are very good because the trees and people are very good.
Everyone, I think, would like this book because Nancy, Julia, George, and Bess made a good team. They worked together very well. I think my friend Allie would like to read the book because she likes the Nancy Drew series, and she hasn't read this one yet. I think the readers would like the part when they found the flowers because they find them in a very interesting way.