Nancy Drew: The Ghost of Blackwood Hall
Written by Carolyn Keene
Reviewed by L. L. (age 8)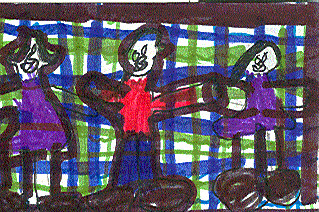 Nancy Drew is trying to find this stolen jewelry and trying to find out who is making these fake s'ances. This same person is trying to get money by saying the money the people give will go to the orphans. Instead, they keep it for themselves. It turns out that there were two women and two men who were the criminals. Nancy works mostly with George and Bess (and sometimes her dad) to solve these two mysteries.
I liked this book because it didn't have many illustrations. I usually like to use my mind to see pictures of the story, but I don't like books without illustrations. I also liked it because it was like two mysteries in one, and I sort of like that kind of story. It was an exciting adventure. It made me feel ready for the next chapter when I had to stop.
I think probably third to fourth- graders would like to read this book because it is sort of scary. Fifth graders might think it's not scary enough. The part of the book they would probably enjoy the most is the part where they solved the mystery.