Henry and Mudge and the Starry Night
Written by Cynthia Rylant
Illustrated by Sucie Stevenson
Reviewed by Steve H. (age 7) & Alondra C. (age 7)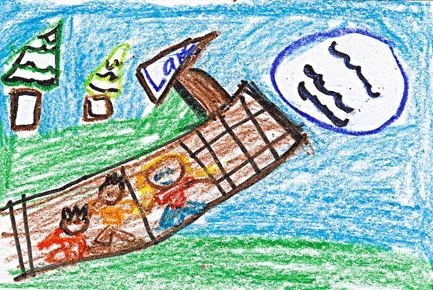 This book is about a little boy named henry and his dog named Mudge. In the summer they went camping with Henry's parents. Henry's mom knew a lot about camping because she used to be a Camp Fire Girl. Henry's dad didn't know anything about camping. He just took his guitar and a smile on the camping trip. As they drove to Big Bera lake Henry thought of some of the things that they might see on their trip. When they got to Big Bear lake they all went for a hike. When they came back everyone sat around the campfire and ate marshmallows. Later that night when everyone went to bed they all had green dreams.
What we liked about the book was that they all had green dreams. We thought that it was sweet because they must have been around so many green trees, plants, and things that they couldn't help but to dream about them. We have never had green dreams, but we bet they are beautiful. Our favorite characters in the story were the parents. We liked Henry's father because he knew how to play the piano and he didn't know anything about camping. We liked Henry's mom because she was a Camp Fire Girl and she knew more than what most boys know. This book reminded us of the new story that we our now reading in class called Exploring Parks with Ranger Dockett. It reminds us of our new story because the setting of the story also takes place in the outdoors like in Henry and Mudge.
We would recommend this book to kids that have never been camping. This a great book to read if someone wants to know what camping is like or some of the things that families can do when they go camping.