Henry and Mudge and the Starry Night
Written by Cynthia Rylant
Illustrated by Sucie Stevenson
Reviewed by Kenia R. (age 7) & Mikayla C. (age 7)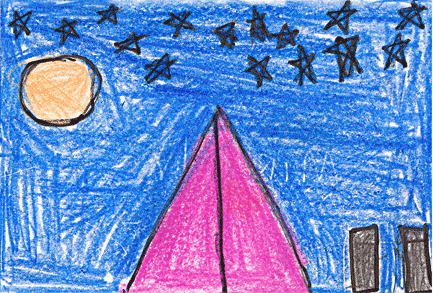 This book is about a boy named Henry and his big dog, Mudge. They always went camping in August. On all the camping trips Henry's mom would set up the tent. Henry's dad would play a good song on his guitar for the family. "We're going to see big bears at Big Bear Lake? Henry said to Mudge this time. The whole family went for a hike and at night they all went to lay down in the tent. Henry had never seen so many stars. Henry layed down and watched the stars while Mudge chewed on a big piece of log.
What we liked about this book was that Henry and Mudge went camping. We both would like to go camping too one day. Our favorite character was the big dog, Mudge. We liked him because we think all dogs are so cute. We also really liked the illustrations because they were very colorful and beautiful. The illustrations were so good that they almost looked like real pictures.
We would recommend this book to all students, but we think that it would be really good for students that are sick and in the hospital. We think that those students would like to read this book because it is about a family that goes camping together. It could help those students to remember when they went camping or if they would like to go camping.