Dragon Gets By
Written by Dav Pilkey
Illustrated by Dav Pilkey
Reviewed by Precious A. (age 8)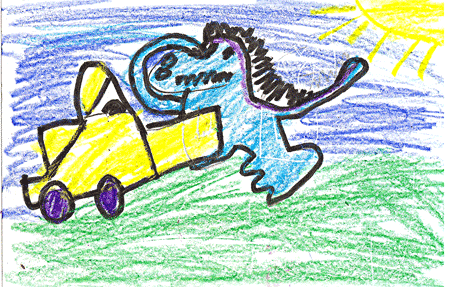 This story was about a dragon who goes shopping. Dragon loved to go shopping. He bought a lot of food. Dragon thought he had a balanced diet, but he didn't. He had bought so much food that he couldn't fit it all in his car. He ate the food because it wouldn't fit in is car. He became so fat from eating the food that he also didn't fit in his car. Dragon pushed his car home. He pushed it down a hill and it crashed into his house. All the excitement made Dragon very hungry. He has to go shopping all over again.
I liked the part when Dragon crashed into his own house. That part had a lot of action in it. Dragon's car went all crazy. I really liked Dragon's character because he did silly things. One of the silly things that he did was that he chased his car down a hill. I also liked the pictures from the story because all of the kids in my class thought that they looked very nice. Many of us would like to learn to draw pictures like the ones from the story.
I would recommend this book to students that have diabetes. This book can show those kids that it is important to have a good diet. The book can also help students to see that an unbalanced diet can make a person get very fat.