Nuts to You
Written by Lois Ehlert
Reviewed by Damian A. (age 7)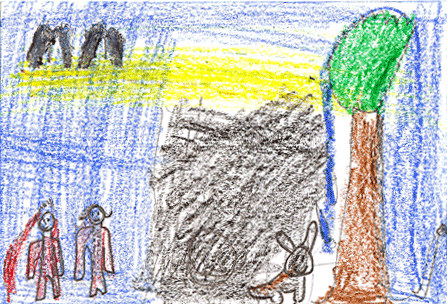 I read this book, Nuts to You, it is about a girl and a boy who are outside chasing this squirrel. The squirrel hides in a tree and sits on some flowers. The boy telling the story sees the squirrel and thinks his mom is going to be mad. He puts some nuts on the sidewalk all over the place so the squirrel will go away. The squirrel looks left and right and eats the nuts. The boy says, "nuts to you." The boy says he'll keep some nuts in his pocket, "one or two" and once he sees the squirrel again, he'll say "nuts to you."
I like the story because the boy couldn't catch the squirrel. My favorite part and the funniest part of the story is when the boy forgot to close the window and the squirrel got in his window. It reminded me of when my dog ran away, and we had to catch her. It was hard for us to catch her just like it was for the boy trying to catch the squirrel.
I think my friends and first graders will like it because it's funny.