Two Bad Ants
Written by Chris Van Allsburg
Illustrated by Chris Van Allsburg
Reviewed by Isaac D. (age 7)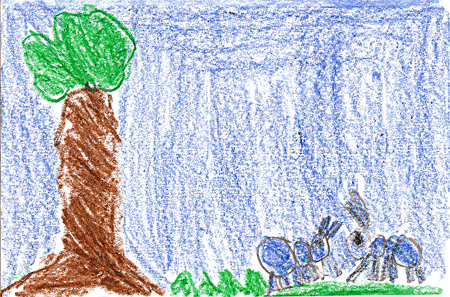 Once there was a colony of ants. This traveler brought a crystal to the mother ant. She said it was the best thing she had ever eaten. So she sent more travelers to bring crystals. When they were on their way, they stopped to listen for hungry spiders. When they got to the kitchen, they hurried out. After they got the crystals, they were in such a hurry that they did not notice two that had stayed. Those two kept on eating until they couldn't move a muscle and fell asleep. When they woke up they passed a lot of places. They went into coffee, a toaster, the sink, and the plugs. Then when the others came back for more crystals, those two that stayed went home with them.
I really enjoyed this story because my mom read it to me alot when I was little. Now I can read it myself. I think this story is good because it teaches a lesson. The lesson was that just because there is a lot os something does not mean that you have to stay there. I like the pictures because they look realistic. It seems like I'm an ant. The coffee looked like a pond to the ants, and that's how it might really look. I was at a warehouse with my mom, and she walked away. I was still sitting there, and I got left. I was like the ants in the story. But they stayed there and I didn't.
I recommend this book called Two Bad Ants to teachers so they can read the story to their kindergarten kids and to grades from first to third because it is funny at the end.