The Gruffalo
Written by Julia Donaldson
Illustrated by Axel Scheffler
Reviewed by Rickie M. (age 7)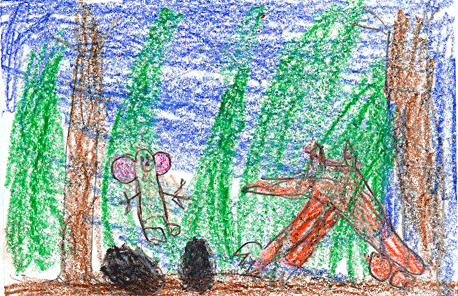 This book is about a mouse who thinks there's a gruffalo, and there really is. He keeps on telling the other animals about how he is going to visit the gruffalo and have tea or a feast. He tells them about the gruffalo's body like his hard, knobby knees, the wart on the end of his nose, and his sharp claws. When the mouse meets the gruffalo, the gruffalo wants to eat him. But the mouse tricks him. You have to read the book to see what the mouse did to trick the gruffalo.
I like this book because it has a lot of funny parts. The funniest part was at the end when the mouse found a nut and the book said, "all was quiet in the wood and the nut was good." I like rhymes. My favorite part is when the mouse makes the animals scared, but it's really the gruffalo. This book reminds me of when I was four and my cousin and I used to make up plays with rhymes in them.
I would tell preschoolers and four year olds and maybe six year olds to read this book. I would tell them to read it because it has a lot of funny parts. It will make them laugh.