Baseball Ballerina
Written by Kathryn Cristaldi
Illustrated by Abby Carter
Reviewed by Tierrah F. (age 7)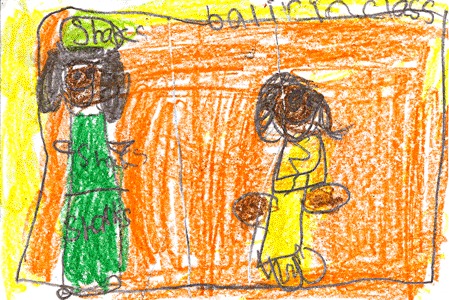 Baseball Ballerina is about a girl who's on a baseball team called the Sharks. Her mom thinks baseball is for boys and she needs to do more girl things. So her mom takes her to ballet class. She practices for a show. At their show, her crown falls off, but she catches it and everyone thinks she is a star. Even the Sharks!
I like this story because it was funny. Especially when her crown fell off, but she caught it and everyone clapped and cheered for her. This reminds me of another book, but I don't remember the name of it, where these girls had crowns and their crowns fell off too. My favorite character is the little girl because she did some funny things like when she giggled in class when her friend kept turning around like a tornado.
I would recommend this story to my mom and little girls because it might be funny to them too. If they like ballet, they might like reading about this girl doing ballet.