Boxcar Children - Mystery of Surprise Island
Written by Gertrude Chandler Warner
Illustrated by Mary Gehr
Reviewed by Troy P. (age 9)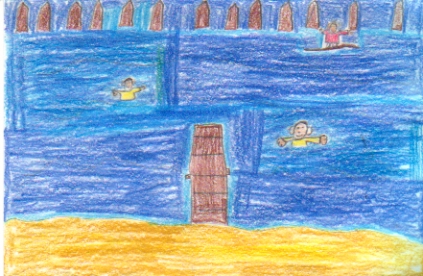 Henry, Jessie,Violet,and Ben are promised a surprise when school is out. Their grandfather has his own personal island. They go there with their dog Watch. They made their own little home in the barn. They go to the mainland to see their Grandfather's museum . Then they get an idea to make a museum of their own from what they find on the island. They found a cave with old Indian artifacts. They even found a skeleton by a shell pile. Read this story to find out about their museum and the fun they had at Surprise Island.
Ben reminds me of myself. He is always eager to do things and go on adventures. I love it when I can do things with my family, especially going on vacation with them. This book is part of the Boxcar Children series. I love reading the books in this series because they are about kids my age. I also like the mystery part of the books. I was surprised about all the surprises in this book. They find a cave where Indians lived and they find Indian tools. Then they make a museum from their find.
This story reminds me of life on the farm with my brother and sisters. We do a lot of things together like playing games or exploring the farm just like Henry, Jessie, Violet, and Ben.
I recommend this book to anyone who likes mysteries. Second grade and up can read this book. Every one should like all the surprises the setting and the characters.