Pirates of the Caribbean
Written by Irene Trimble
Illustrated by Elliot Marks and John Bramley
Reviewed by Reid H. (age 9)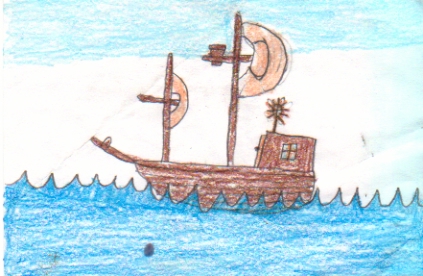 Jack Sparrow snuck onto a boat claiming that the pirates on board stole his belongings. When he got inside, he touched the bag which contained his belongings. The captain said,"Hey, what are you doing" and Jack said, "I'm taking my belongings back". He got into a fight with the captain. Then the waiter named Arebella came in and she took Jack away from the fight. She took Jack outside and gave him a little talk. He asked her if she wanted to come with him on his journey. She said okay.
On the deck before he set sail, another teenager named William came and said, "I'm coming with you". The three of them set sail to find a treasure--the Sword of Cortez. Read the book to find out about the adventures of this threesome and see if they find the Sword of Cortez.
I thought all three characters were interesting because they began a dangerous journey so young. They were all brave when they were on the ship. Every time they saw a storm coming, they went full power straight into it. I thought the illustrations were pretty cool and had good detail. They show when it's raining and when they are moving. They are in black and white.
I think the thing that's unique about this story is how three teenagers run the ship through all the islands and storms they have been through. My favorite part is when they find an abandoned town with a lot of treasures. The problem is that Jack Sparrow,the captain, doesn't know where he is going.
I recommend this book to anybody who likes pirates because that is what the book is about. Third graders and up will enjoy it.