A Series of Unfortunate Events: The Bad Beginning
Written by Lemony Snicket
Reviewed by Elise W. (age 10)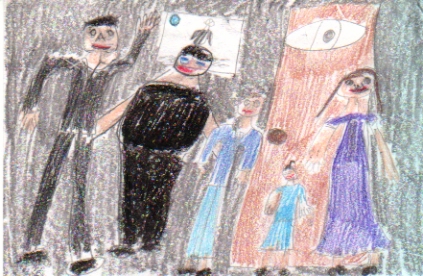 Violet, Klaus,and Sunny's parents were quite wealthy. They died in a fire that destroyed their entire home. The children go to live with their distant relative, Count Olaf. Count Olaf is a terrible man who tries to steal the children's fortune. The children cannot use the money until the eldest comes of age. Count Olaf makes them do hard chores like chopping wood and repainting the back porch. Count Olaf is an actor and has terrible friends in his theater troupe. The children meet their loving neighbor, Justice Strauss, who is a real Justice of the Peace. Justice Strauss has a lovely and private library that she says the children can come over and visit. The children must prepare a meal for the theater troupe. They go over to the library to look for a recipe they can serve to the theater troupe. This book tells about the terrible hardships the children face. Read the book to find out if Count Olaf gets the children's money or if the children are rescued from living with the terrible Count.
Sunny bites everything and everybody. She reminds me of my little sister because she once had a habit of biting.
This is not like any other book I have read because with this book there is no happy ending. The children cannot escape danger and misery, but they can sometimes find comfort,even though it doesn't last long,the children love it while it does.
It is most definitely like the other books in its series because terrible things happen to the children in all of the books like deaths of more loved ones and more encounters with Count Olaf. It made me feel like I am so lucky just to have parents and other people who care about me.
I think that anyone who thinks that they have had a hard life should read this book. Once they do, they will think that their life is a piece of cake. That's what I thought after I read it.