Because of Winn Dixie
Written by Kate DiCamillo
Reviewed by Chance R. (age 10)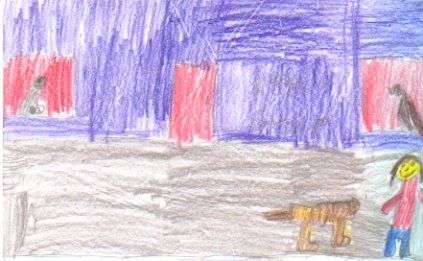 Opal is new in town.She moved here with her dad, who is a preacher.Her dad asked her to go to the store to get some groceries. Opal comes back with a dog who made trouble in the store.She convinces her dad to keep the dog. She names him Winn Dixie. Read this story to find out how Winn Dixie helps Opal make friends in the new town.
My favorite part was when Opal discovered Winn Dixie in the store. I laugh when I think about how upset the manager was when the dog was destroying the store. I like Winn Dixie because he could smile. When he smiled, he sneezed. Winn Dixie reminds me of my dog, Maxx. Maxx is a big and loving dog that sometimes gets into trouble. One time he was outside with my brother, Cody and me. Cody threw the ball and I was trying to catch it. He ran right into me. Like Winn Dixie, everybody loves Maxx.
One unique thing about this story is how Winn Dixie helped Opal get frinds in a new town. I would recommend this book to anyone who likes smart and funny dogs. Most of it is funny and some of it is sad. Many people were friends after they met Winn Dixie.