Biscuit Finds a Friend
Written by Alyssa Capucilli
Illustrated by Pat Schories
Reviewed by Tarryn C. (age 8)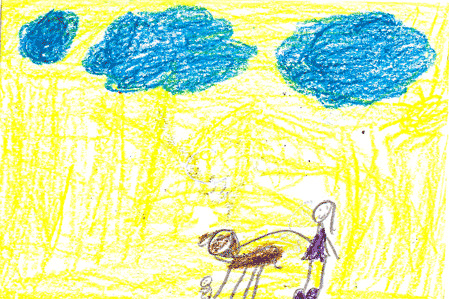 I am writing about Biscuit and his new friend. Biscuit was walking with his owner when he saw something. It was a duck. Biscuit's owner picked the duck up and took it back to the pond. They found his mother and father. His brothers and sisters had missed him. Biscuit has a new friend now...the duck. He is happy now. Biscuit plays with his new best friend the duck. Now Biscuit says hi all the time. "Woof! Woof!"
I like this book because Biscuit and his owner helped the duck find his mother and father. They were being nice to others, and I like when people are nice. My favorite part was when Biscuit wanted a best friend and then found the duck and made a new best friend. It reminds me of my brother being nice to me and playing jump rope with me and my friend.
I think my little brother would like this story because he likes Biscuit books very much. I think kindergartners would also like this story because it's funny.