Matilda
Written by Roald Dahl
Reviewed by Chelse T. (age 8)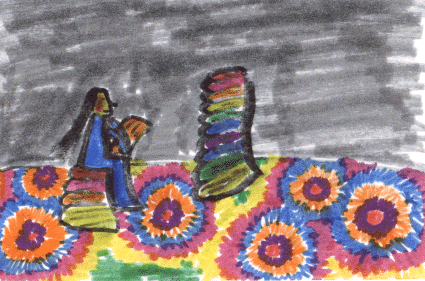 I chose this book because I've read a Roald Dahl book before this one and I liked that book just as much as I liked this one.
This book is about a genius three year old kid who at home gets stuck with her mom and dad who are too busy watching TV to notice how intelligent she is. Then in school she gets the loveliest teacher. But still on the first day gets bad news about who her principal is. Her principal is either going to be The Trunchbull or Miss Trunchbull. Matilda soon finds that she had better not wear pigtails or else that is what she is going to be swung by. Her principal is soon going to show the new kid in school (Matilda) just how much The Trunchbull hates kids by blaming everything that happens on Matilda. The part I liked the most was when Matilda somehow used her eyes to pick up chalk and write something on the chalkboard which made the Trunchbull faint becuase she was scared to death.
I think I would recommend this book to a second or third grader because I read this book. There is a book with 184 pages that a person recommended to a nine year old and this book has 240 pages so since I'm a second grader and a nine year old is a third grader, I think either one could read it.