I Hate English
Written by Ellen Levine
Illustrated by Steve Bjorkman
Reviewed by Chioma L. (age 10)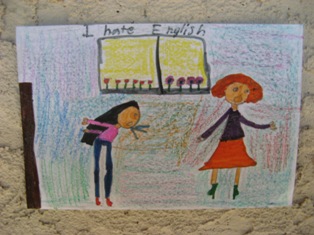 The main character, Mei Mei has a problem. The problem is that she hates speaking English! Mei Mei moved to New York from Hong Kong. She was angry at her parents for moving. Did they care that she didn't want to move? No! She decided she would not speak in school. She would only speak in Chinese. She wasn't even going to raise her hand to ask a question. Then, she went to the beach one day. She went with her cousin, Bing. A teacher named Nancy started reading to Mei Mei. See what happens next when you read, "I Hate English!"
This book reminds me of how I refuse to do stuff like how I won't get on the ferris wheel or other scary rides at the fair or how I refuse to look at scary, scary movies. Mei Mei reminds me of myself because I don't try new stuff like different foods. Mei Mei wouldn't try to speak English or even read it. She wouldn't listen to English either. After Mei Mei let Ms. Nancy read to her she changed because after Ms. Nancy kept talking in English, Mei Mei started talking in English too and she wouldn't stop!
This book will help kids read more books. I want kids to enjoy reading so they should read this story. It has a lot of funny pictures and parts. One funny part was when Mei Mei pretended like she didn't like Ms. Nancy so she turned away. But, she really wanted to tell Ms. Nancy that she liked her. You need to read the book to see what Mei Mei said next. If you like to read books about people's problems to see how the problems are solved then this book is for you. This story may interest you because it's about a girl who hates English. You may want to know how Mei Mei turns out.