I Hate English
Written by Ellen Levine
Illustrated by Steve Bjorkman
Reviewed by Myka I. (age 9), Gerald J. (age 10) & Aja P. (age 10)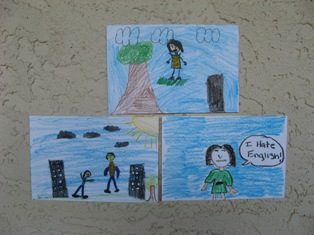 The main character is Mei Mei. The problem is she just moved from Hong Kong to New York and Mei Mei hates English! Her family made her move to New York. She didn't want to move but she had to because she had to go to school. In school, kids only spoke English and she didn't. In Chinese, Mei Mei said to herself that she would not speak in school! One day, a new teacher, Miss Nancy, came to school, and she started to talk a lot. Mei Mei didn't like it. One day she got angry and said, "I've had it. From now on, I will speak English only when I feel like it!" What is Mei-Mei going to do? What do you think will happen?
Gerald J.: I think the book was great because I liked the way Mei Mei looked at her teacher like she was real mad because she did not know English. She was so funny when she did this. Also, I think the colors are great too, especially the picture of Mei-Mei and her friends sitting on the school bus going to Jones Beach. Mei Mei wore a nice white hat, a colorful blouse and jeans. The illustrator was very creative when he drew this picture. It almost looked real!
Myka I.: I think this book was very creative. Why? In the beginning Mei-Mei didn't like English but then she got a new teacher and she taught Mei-Mei English. Then, Mei-Mei started speaking English! My favorite part is when that happened. Mei-Mei reminds me of myself because of how I act. Sometimes, I get mad because I don't like reading in school.
Aja P.: The character that I thought was interesting was Mei Mei because she was from a different culture. There was a person that changed. Yes, you guessed it. It was Mei-Mei. The way she changed was that she learned to love English! That was my favorite part.
Myka I. and Gerald J.: We would tell people to read this book. Our friends, family and teachers would enjoy the book because it is full of surprises. One surprise was when one day all of a sudden, Mei Mei found out she was moving to New York from Hong Kong but she didn't know why. We would like you guys to read this book to find the rest of the surprises. We want you to have fun as you read it. We sure did!
Aja P.: "I Hate English" is a very good book. It is a good book because it tells the story about a girl that finds herself in a pickle and maybe at the end she might find a way out of her problem. People have problems like Mei Mei in everyday life. We have to find ways to solve our problems by working through them to make our lives better, just like Mei Mei did.