The Little Red Hen by Paul Galdone
Written by Paul Galdone
Illustrated by Paul Galdone
Reviewed by Lindsey S (age 5)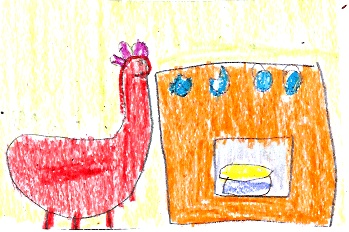 The Little Red Hen finds some seeds and wants to plant them in her garden. Whenever she asks her friends, the Dog, the Cat and the Mouse to help her, they tell her no. When she finishes the work and has made a cake, they want to help her eat it and she tells them no.
I liked this story. My favorite part was seeing the Little Red Hen eat the cake after all the work. That was a good reward for her.
You will like this book. It has cute animals and you get to see a cake being made and eaten. It might make you hungry and want to pretend to make a cake.