Giraffes Can't Dance
Written by Giles Andreae
Illustrated by Guy Parker-Rees
Reviewed by Maliyah (age 6)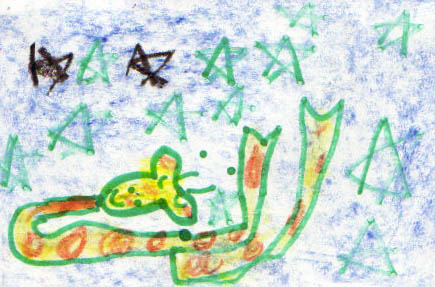 Gerald the Giraffe didn't know how to dance. All the other animals make fun of him, and he gets really hurt. He meets a cricket that makes him feel better, because the cricket teaches Gerald how to listen to the music. He practiced and then he got better. When it was time for the dance everybody said "wow". They thought he was a terrific dancer! He listened to the music!
The author is trying to teach us to practice, so we can be really good at things. Gerald didn't listen to the mean things the other animals said. He just kept on dancing because he wanted to!
I love Gerald because he's really funny. He runs and falls down, and moves silly. He dances funny, and he still does it, even if he doesn't know how. He dances because he likes it. I like to dance too!
My favorite part was when he learned how to dance. All the animals are having fun and Gerald is dancing well. The pictures are really pretty in this part too. The illustrator uses lots of different colors. It makes me feel happy. I think the illustrations are special. They look beautiful and they make me feel good inside. They make me want to go to the jungle and dance with Gerald.
I think that everyone will like Giraffes Can't Dance because when he tries to dance it is so funny. I think that teacher's will really like this book because it teaches their students a lesson. The lesson is that they should practice and get good at what they want to do, just like Gerald!