Officer Buckle And Gloria
Written by Peggy Rathman
Illustrated by Peggy Rathman
Reviewed by Ethan L. (age 6)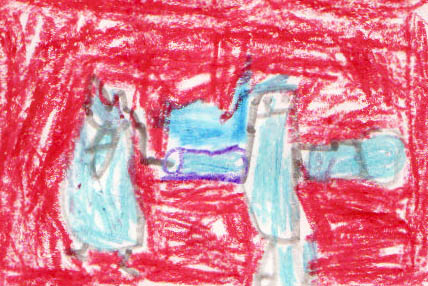 Officer Buckle and Gloria are a police team, but Gloria is a dog. They teach people about safety tips. Nobody likes Officer Buckle's tips until Gloria comes along. Then everyone wants them to come and teach safety tips at schools, on the news, and even at day cares! But Officer Buckle gets upset at Gloria and then he doesn't come anymore. Gloria can't do the safety instructions by herself and she falls asleep on the stage. At Napville School there is a big accident! They need Officer Buckle's help to be safe!
This book teaches you how to be safe. You should listen to policemen, and firemen, and teachers too. Rules are important and they help keep us safe!
I really liked Gloria, the dog. She is my favorite because when Officer Buckle brought her along she listened to what Officer Buckle said and then she acted out the safety tip. She did it really funny and the people watching the safety speech all laughed.
My favorite part is the front two pages before the book starts. I love this part because it shows almost all the things that Gloria does and all the safety tips that Officer Buckle teaches the kids.
This book reminds me of the time that Officer Z came to my school. He taught us some safety tips too! He taught us to wear our helmet, and to never talk to strangers. I bet that lots of schools have Officer's that come and visit them and teach them about safety!
I think that all the kids in the world should read this book that way they can learn about how to be safe! People who like K-9s would like this book too, because K-9 means dog, and there is a dog in this book. I think people will really like all the safety tips that Officer Buckle teaches and the funny tricks that Gloria does. The pictures really made me laugh and I think other kids will laugh at them too. The illustrations of the accident will be some kids' favorite part.