Because of Winn-Dixie
Written by Kate DiCamillo
Reviewed by Jade C. (age 14)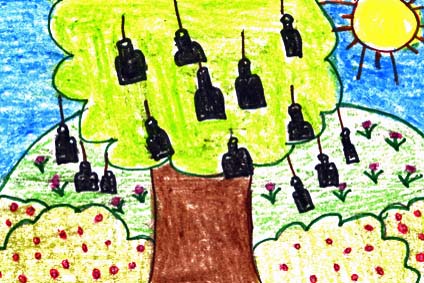 People say that a dog is man's best friend. In this story the dog, Winn Dixie, is girl's best friend. India Opal Buloni (Opal for short) and her new dog, Winn Dixie, meet many different people. Each one of these people share an interesting and unique life story with Opal. Winn-Dixie is the common thread that weaves all of the characters together. This book is a heartwarming and funny story about friendship.
This book is funny from the very start. Opal just wanders upon a dog in a store that is running around wild inside the store - yes, inside, knocking things and people over. The dog is not being bad, not really, he's playing chase. The owner is having a fit over this, but the dog is smiling and having fun. Opal knew that this was a special dog because she had never seen a dog smile before. The store owner was going to call the pound so Opal jumped in and claimed the dog as her own. "Winn-Dixie" seemed like an fitting name because that is the name of the store where she found him. So, Winn-Dixie it was!
I like how each character has a unique story to share with Opal. Gloria Dumps tied whiskey bottles from tree branches in her front yard from her past to keep "ghosts" away. Opal was confused because Gloria was the nicest person that she knew. The lesson that Opal learned is that you can't judge a person from their past - People can and do change.
Opals dad was the preacher in the town. When Winn-Dixie was lost, everyone frantically looked for him everywhere! It was heartwarming when Opal's dad was crying because they couldn't find the dog. It was pouring down rain and they were both drenched. Opal put her arms around her wet dad and said, "Shhh, Everything will be okay!" This shows that children can be of comfort to grown ups.
One of the important lessons that I learned from reading this story is that you should live in the present. Accept people for who they are now, not as they once were. Gloria told Opal that you can't hold on to anything. You've got to love the people in your lives now while they are with you. Don't put off saying I love you to the people you care about because you don't know what tomorrow will bring.
I would recommend this book to anyone who likes that warm and fuzzy feeling inside when reading. It's a kid's story but my mom loved reading it too. Because of Winn-Dixie is a Newberry Award Winning book, and after reading it I know why.