Knight
Written by Mary Pope Osborn
Reviewed by Samuel M. (age 9)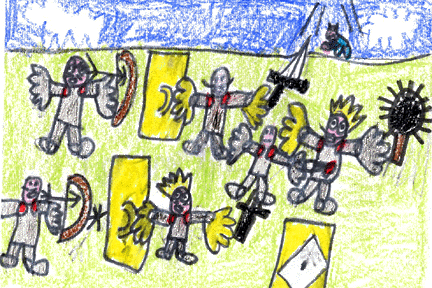 This is a fact book about knights. If you want to be a knight then read this book! It will show you weapons from axes to wands. It shows all of the equipment from knights in Europe during medieval times. It's not just about knights, but there's other kinds of soldiers too. It tells you how to be a king or queen and it tells what a king or queen does. I learned that kights had to wear lots of armor to protect them from arrows, fire, and sword attacks. Knights sometimes ride on horses and the horses wear helmets with spikes on them. When knights get old, they retire because they are weak.
I think this book has lots of interesting facts about medieval times. I like it because it shows many pictures of weapons such as giant swords and a pole ax. The book also tells about Christian religion and the battle for that religion. When I was reading this book, I felt excited because I was imagining in my head what it would be like to be a knight. I liked this book so much, I couldn't stop reading it! I stayed up so late, that my mom had to call me to bed!
If you like history and if you like Eyewitness books, you will like this book.