The Homework Machine
Written by Dan Gutman
Reviewed by Taylor (age 11)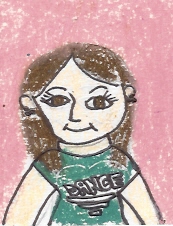 The Homework Machine is about four kids Sam Dawkins, Kelsey Donnelly, Judy Douglas, and Brenton Damagatchi who create a homework machine and their all in jeopardy of going to jail ? or worse!
One day four kids Sam Dawkins, Kelsey Donnelly, Judy Douglas, and Brenton Damagatchi, the smartest kid in the world, invent a homework machine. So they start hanging around each other everyday. The kids in their class all call them the ?D? squad because their last names all start with the letter ?D?. When you have a secret and you start hanging around people that other people think you shouldn?t be around, then word gets out and everybody thinks you?re up to something. Will these four kids find a way to control this homework machine, or will they have to face the consequences for not doing their homework? You?ll have to read this book to find out.
I loved The Homework Machine because it was so exciting and you couldn?t wait to see what was going to happen next. My favorite part of the story was when they start dating each other. Sam starts dating Kelsey and Brenton starts dating Judy. The special thing about this book is that they all have a special quality about themselves. Also there are a lot of funny things in it! I could read it over and over again even if it does get boring!It wasn't boring and it held my interest!(Though I don?t think it?s going to get boring!)
I would recommend this book because The Homework Machine because it?s so funny and it talks about mostly everyday life. The kids in the book (Sam, Kelsey, Judy, and Brenton) are a little crazy with the things they do, especially Kelsey! I won?t tell you the crazy things she does though, because that will spoil the ending! People who like crazy, and laugh out loud kind of books are going to love this book! This was a great book and I enjoyed reading it very much. DO YOUR HOMEWORK!!!!!!!!!!!!!!