The World Wide Dessert Contest
Written by Dan Elish
Illustrated by Johm Steven Gurney
Reviewed by Jonetta (age 10)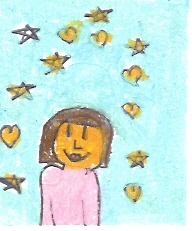 The Worldwide Dessert Contest is a great book and it will boggle your mind. You will never want to stop reading it, that's how enjoyable it is.
The story is about a dessert chef named John Applefeller. John always finishes in last place when he competes in cooking competitions. The reason for this is because anytime he makes a dessert, it turns into something other than a dessert. For example, an apple pancake turned into a trampoline. That sounds crazy, doesn't it? A skating pie turned into a flying pie. This book will definitely make you laugh!
I think this is a great book to read. The reason for that is because there are so many weird desserts that you will love! I laughed outloud because some of them were just so wild. My favorite part of the book is when all the desserts change into something else. You'll have to read the book to find out exactly what I mean.
I would recommend this book to anyone who enjoys cooking and interesting and unusual recipes. I liked it so much, I read it over & over again. This book will definitely be of interest to other fifth grade students. If you read the book you will enjoy the story and the characters.