Mickey and Me
Written by Dan Gutman
Reviewed by Billy (age 11)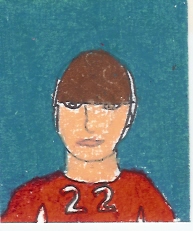 I read Mickey and Me by Dan Gutman. I liked this book because it had interesting details about baseball games and lots of facts about baseball history.
This book is about a teenage boy, Joe Stoshack. He found a baseball card and all of a sudden the next thing you know, he was transported back to 1944. It was incredible how he was traveled back through time!
When Joe travled back in time it was 1944. During this time World War II was going on. Joe became involved in baseball and he had to play for a professional girl?s baseball league. You will have to read to find out how he helped them to win the championship. this part of the story was exciting and upbeat. However, during that night Mickey Maguire, who also plays on the team, received a phone call telling her that her husband had died in battle. This reminds you that even though everyone is enjoying baseball there is also a war going on.
I recommend this book to everybody that likes baseball. It was a fast paced book that really holds your attention. The baseball facts and historical information about World War II also made the book very enjoyable for me. I am looking forward to reading more of Dan Gutman's stories.