The Homework Machine
Written by Dan Gutman
Reviewed by Lucia C. (age 11)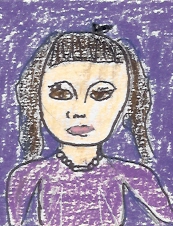 The Homework Machine is about four kids Sam, Kelsey, Judy, and Brenton. Brenton creates the homework machine and there are problems.
When the four kids join together Brenton tells them about a machine he made. Sam didn?t believe Brenton so they all went over his house and they saw the machine. Miss Rasmussen, their teacher is giving pop tests and they are failing them. Someone tells the school news paper. Just when they think it can?t get worse the machine becomes powerful.
I liked The Homework Machine because kids have to go against there own creation. I also liked that the machine is always doing there homework and they are getting A's on the work. If someone tells anyone about the machine anyone of them can go to jail or worse.
I would recommend The Homework Machine because it was interesting and it talks about things that can happen in school. It is also an easy read because it only 146 pages long. The kids in the book have their own personality, they are not all the same. I loved this book.