Shoeless Joe and Me
Written by Dan Gutman
Reviewed by Anthony C. (age 11)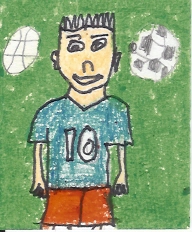 The book I read is called Shoeless Joe & Me. The author?s name is Dan Gutman. The main character Joe Stoshack can travel through time with baseball cards. In this book he uses a 1919 Heinie Groh baseball card to get back to the year 1919.
A boy named Joe Stoshack plays baseball and his baseball team?s sponsor is closing down his store. Everyone is disappointed. He tells Joe about Shoeless Joe Jackson. Joe Stoshack gets excited. He wants to stop the Black Sox Scandal of 1919. He wants to stop the Black Sox Scandal because Shoeless Joe was in it but it wasn?t his fault.
Yes, I liked the book because I like baseball. I also like Shoeless Joe because he is a very nice guy and always gave his love for the game. I liked the part when Shoeless Joe hit a homerun in the World Series.
Yes, I would recommend it to someone who likes baseball. I?m sure they will like this book. This book deals with historical fiction. They would like the book because it talks about baseball and Shoeless Joe. It?s exciting to learn about the baseball history and the World Series scandal of 1919.