Misty of Chincoteague
Written by Marguerite Henry
Illustrated by Wesley Denis
Reviewed by Rebecca D. (age 10)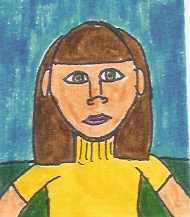 Misty of Chincoteague, by Marguerite Henry is a great story about two children named Paul and Maureen who work hard to get a wild mare and her newborn colt, Misty.
Paul and Maureen went to Assateague Island with their grandpa Beebe and saw a beautiful mare. Paul and Maureen wanted her, so Paul went back to Assateague Island with the roundup men to capture horses for Pony Penning Day. He captured the mare which everyone called the Phantom, and her colt Misty. On Pony Penning Day they saw the Phantom and Misty, but would they have enough money to buy them both?
This is a terrific book. I love horses, so that makes it even better. It is my favorite book for that reason. I thought the part when the horses had to swim through the water was suspenseful, and the race at the end was exciting. Also it was scary when the stallion called the Pied Piper snuck up on Paul, and they came face to face.
If you like horses or animals you would enjoy this book. You will love it, and you might want to read Marguerite?s other two horse books: Justin Morgan had a Horse and King of the Wind.