The Fighting Ground
Written by Avi
Illustrated by Avi
Reviewed by Zach S. (age 11)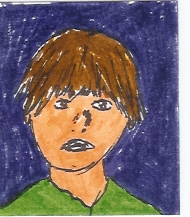 The Fighting Ground, by Avi, is about a boy who went to fight a battle that was approaching his town. He was captured by three Germans. I enjoyed this book a lot.
Jonathan is a 13 year old boy who found out that the war was coming to his town. He went without permission to fight with the others around him. They got to the fight, and Jonathan was captured. He soon got away and found his squad. They ambushed the Germans, but only some made it back after the fights.
I liked this book because I like historical fiction. There were a lot of great parts in the book. The book was filled with great detail like how Jonathan got lost in the woods while the fight was going on and when the Germans found him. I like how Jonathan had family members in the war which is why he wanted to go. I also liked how he saved a boy from a shed who had no family. It was great how they described the first battle because the author made it seem real.
This book would be great for you if you like historical fiction. You will probably like this book even if you don?t like historical fiction because it?s full of action.